Places & Temples to visit in Gokul
Gokul
Gokul is a little yet wonderful getaway from Agra, around 15 km of the south-east of Mathura and lying on the banks of Yamuna. Located 16 kms from Mathura, It was where Lord Krishna was covertly raised by his foster mother Yashoda. Gokul is a quaint town offering fascinating mythological stories from Lord Krishna's childhood resplendent in its glorious places, structures, temples and elements. The two must visit sites here are Gokulnath Temple and Ramanreti whose sacred sands (reti) are redolent with the stories of a bygone era when Lord Krishna frequented to engage in divine plays (raman) with his brother, Balarama and his cowherd friends. Today many pilgrims roll on the sands to seek blessings from Lord Krishna.
Take a tour to some of the famous temples in Gokul:
Shri Thakurani Ghat
Thakurani Ghat is a famous ghat in the Gokul. Vallabhacharya (the founder of Vallabha order) is accepted to be framed as the holy darshan (see) of waterway Goddess Yamuna.
Devotees and people that, inspired by Lord Krishna, Vallabhacharya came to Gokul to give the information of Love and commitment to the people. He was greatly impressed by the tranquil environment and devout condition of Gokul that he chose to remain there perpetually offering his deep-rooted administrations to Lord Krishna and his property.
Nand Bhawan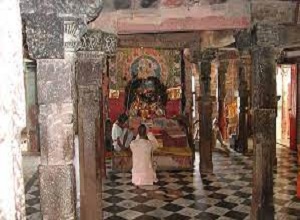 Nand Bhawan was built by the famous architect Vishwakarma more than 5000 years ago. Situated on a hill, it was the residence of Nanda, foster of Shri Lord Krishna. It was in this house young Krishna and his sibling Balaram was raised while his birth parents were imprisoned by in Vrindavan.
One can take darshan of Yogmaya here. Srimad-Bhagavatam distinctively portrays how the luckiest Nanda Baba turned out to be very happy after receiving a son as a child.
Raman Reti
Built in 1814, DwarkaDheesh temple is the main temple of Mathura. Hundreds of devotees come here to celebrate the festivals associated with the life of lord Krishna (Janmashtmi, Holi, and Diwali). It has beautiful paintings all along the walls depicting the mystical life of lord Krishna. Devotees and people believe that at this place Lord Krishna amid his adolescence used to play with brother Lord Balram and his other gopa companions. In this way, because of its relationship with Krishna, this land has been utilized by many holy people for their reflection. A little sanctum by the name of Rangbihari Ji is situated at this place which was set up and revered by a devout holy person Sri Gyandas Ji Maharaj who played out his extreme starknesses for the endowments of Lord Krishna while fasting at this sacrosanct place of Raman Reti.
Brahmand Ghat
Brahmand implies the Universe. It is where Lord Krishna played out his hobby of demonstrating the entire universe inside his mouth to his temporary mother Yashoda.
Mother Yashoda got furious at the deed of Krishna eating mud, she went with Gopas to where Krishna was playing. On reaching there, Krishna denied saying that all the Gopas are lying and he never ate mud. To demonstrate reality, Yashoda requested that Krishna open his mouth when Krishna opened his little mouth, mother Yashoda was shocked at seeing the entire universe spinning inside the mouth of Krishna. Subsequent to having the perspective of such a sight inside the mouth of her Krishna she lost her senses.
An excellent sanctuary remembering this distraction is based on the bank of this Ghat and is named as Brahmanda Bihari sanctuary.
Gokulnath Temple
Considered a greatly holy place, Gokulnath Temple is visited by a huge number of pioneers especially amid the Krishna Janmashtami and Annakut celebration.
Coming to Mathura Vrindvan?
Now you can book your cab online and explore land of Krishna comfortably
Don't know where to go?
Now you can hire a guide online and explore land of Krishna