Places And Temples to visit in Raval
Raval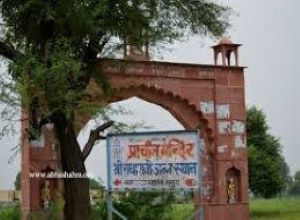 Raval is known for its spiritual sanctity due to its association with the divine goddess Sri Radharani. It is actually the birth place of Sri Radharani. Formerly the village was known as Mukharvali. It is located about 4Kms to the south of village of Gokul (Mahavan), the birth place of Lord Krishna. There is a small temple dedicated to Lord Krishna and Radha by the name of Larily lal. The deities of the temple are , believed to have been established by Vajranabh about 5000 years ago. According to legends, Nand Maharaj (foster father of Krishna living in Nandgaon) and Vrishabhanu Maharaj (father of Radha) were both good friends and had no child. Both of them decided to move close to the banks of river Yamuna. So Nand ji moved from Nandgaon to Gokul and Vrishabhanu Maharaj shifted from Barsana to Raval which was very close to Yamuna. One early morning, when Vrishabhanu Maharaj went to river Yamuna to have his bath, he saw a beautiful lotus flower in the centre of the river and on that lotus flower was laying a small and an extremely beautiful girl child. The brilliance of her golden complexion was overshadowing the brightness of millions of sun. Vrishabhanu Maharaj was completely mesmerized by the beauty of that child and desired to reach her. Suddenly, Lord Brahma appeared before Vrishabhanu Maharaj and explained him that, in his previous life he was Suchandra and his consort Kirtida was Kalavati and both of them had performed severe austerities for thousands of years desiring to have goddess Laxmi in the form of their daughter. Pleased by their prayers, Lord Brahma blessed them with the benediction. So, in order to fulfill their desire Goddess Laxmi has appeared on this earth in the form of their child (Sri Radharani). Blessed by Lord Brahma, Vrishabhanu Maharaj brought that girl child to his home and handed her to his wife Kirtida, who was overjoyed to see this little angel. The couple soon, arranged for the religious rituals for making donations to Brahmans and other prayers in the honour of the birth of their beautiful child. Soon, everyone noticed that the girl child could not open her eyes and made any sound or perhaps she was blind, deaf and dumb. Suddenly, Narada Muni came to Raval to have the pious sight of Srimati Radharani, the perfect manifestation of love and devotion. On having the sight of Radharani Narada Muni paid his obeisance to her and performed circumambulation round his gem studded cradle. He bowed his head in front of that divine child and with loving emotions in his heart and tears in his eyes, enchanted the glory of Sri Radharani. Knowing of the concern of Vrishabhanu Maharaj regarding the child, Narada Muni advised him to organize a huge ceremony, celebrating the birth of girl child. He also instructed him to invite everyone from Gokul and Raval in the celebrations. Vrishabhanu Maharaj invited everyone including his dear friend Nand along with his family. On the day of celebrations, Nand Maharaj came to Raval along with his consort Yashoda and his child Krishna to congratulate the fortunate parents on the birth of such a lovely child. When both the parents were discussing their matters, soon the little Krishna crawled to the cradle of Sri Radharani and put his lotus face before Sri Radharani. Noticing the face of her beloved Krishna in front of her, Sri Radharani opened her eyes, because she didn't want to see anyone else in this materialistic world other than her beloved Krishna. Filled with an ecstatic feeling of love she started crying and when everyone over there saw this wonderful pastime of Lord Krishna and Radha they were all overjoyed with happiness and celebrated the birth ceremony of Sri Radharani.
Coming to Mathura Vrindvan?
Now you can book your cab online and explore land of Krishna comfortably
Don't know where to go?
Now you can hire a guide online and explore land of Krishna