Places and Temples to visit in Govardhan
Govardhan
Placed at a distance of 23 km to the west of Mathura, Govardhan hill is associated with lord Krishna. Legend has it that lord Krishna saved the people of Braj from torrential rain by lifting this mountain as a canopy on his fingertip for seven days & nights, to vanquish the pride of the great god Indra. In the year 1520, Seth valabhacharya constructed a temple on the summit of the hill to commemorate this event. The town is famous for its 21km long Parikrama around the holy Govardhan hill bringing eternal blessings to pilgrims. After Krishna protected the inhabitants of Braj from the wrought of Lord Indra, he commanded them to worship this pious hill. One of the most important days of Govardhan is Guru Purnima. On this day millions of devotees, come here to perform the scared ritual of Parikrama for self-purfication. The other attractions of Govardhan are 400 years old Har Deva ji temple, the red stone Haridev temple and the Kusum Sarovar with intricately carved Chatris of Raja Surajmal of Bharatpur. Govardhan is located in the hilly terrain of the hill known as Giriraj. This place has bottomless tails and stories of Lord Krishna as an infant. As indicated by the Vedas, the pinnacle has dropped from the heaven itself. Legend has it that once the people of Govardhan were hit by heavy rain and the Lord himself lifted this crest for 7 sequential days and saved the lives people.
Daan-Ghati Mandir -
There is a mischievous story of Lord Krishna and Radha Ji associated with Daan-Ghati Mandir. A toll must be paid in order to pass this place. At the time of Krishna's, Krishna was a toll-gatherer and performed dan-Lila, or a paid toll activity, with the gopis through cherishing squabbles and mockery.
Goverdhan Parikrama
Govardhan Parikrama (going 21 kilometers around the way) is a sacred custom performed by numerous devotees as spiritual purification. There are no time restrictions for performing out this Parikrama, for those who perform the Parikrama it may take weeks and sometimes even months to complete. This sacred custom of Parikrama is considered far superior if it's performed with milk. A mud pot filled with milk, with an opening at the base, is conveyed by the devotees in a single hand and a pot loaded with dhoop (incense smoke) in another. An escort continuously tops off the pot with milk till the parikrama is finished.
Radha Kunda
Radha Kunda (well) is known to be the holy bathing spot of Radharani. She had reprimanded Krishna, saying that he became impure by slaughtering a bull, by the symbol of religion. She proposed that he could purge himself by scrubbing down in every sacred stream. As opposed to going to every consecrated place, he hit the ground with his foot rear area and water from every blessed waterway showered up. The place was then known as Shyama-Kunda. In a focused state of mind, the Gopis drove by Radharani additionally made a Kunda by burrowing the earth with their bangles. Hence, Radha Kunda showed up.
Mansi Ganga Kunda
Manasi Ganga used to be an expansive lake, yet has become considerably littler throughout the years. It is believed that Radharani and Krishna would go boating on this lake. This tank denotes the beginning and ending purposes of the sacred Govardhan Parikrama. It bears relations to Lord Krishna. It was built by Raja Bhagwan Das and Raja Man Singh. It is recognized as the holiest of the kunds. Devotees here trust that a plunge in this sacred Mansi Ganga Kunda would take away every one of their transgressions and sins.
Kusum Sarovar
Kusuma Sarovara, an excellent sandstone landmark, is a 25-minute stroll from Radha Kunda. Kusuma signifies "flower," and here the gopis would pick blossoms for Krishna. Kusuma Sarovara serves as the best swimming spot in Braja. The ghatas at this kunda and the structures over the Kunda were built by Jawahir Singh, the lord of Bharatpur around 1764, out of appreciation for his dad Raja Suraj Mall. There are excellent works of art on the roof of three tombs, to be specific the principal tomb of Raja Suraj Mall and other toms of those of two queens, Kishori and Hansiya. There is additionally a Giriraja Temple here.
Mukharvind of Shreenathji at Jatipur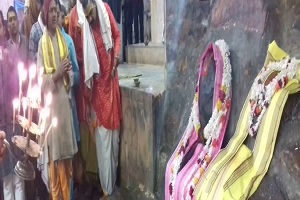 Many devotees and people visit this sanctuary daily to revere and admire with milk and flowers. This Mukharvind of Shreenathji at Jatipura is considered as the starting point their Govardhan Parikrama from here. The place is constantly bursting at the seams with positive vibrations and vitality.
Coming to Mathura Vrindvan?
Now you can book your cab online and explore land of Krishna comfortably
Don't know where to go?
Now you can hire a guide online and explore land of Krishna